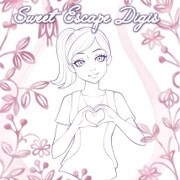 We were generously given an image to work with and I chose
Pretty Flowers
.
I used my Spectum noir pens to colour the image in and to colour the background papers. Won't be doing that again, I used up so much ink. The scan n cut cut the flower card blank and all the mats. All card was from my stash. The flowers were from my stash, I've had them for years. I then used the scan n cut to cut the special and a die set by first choice for Mum. I put them at the angle my OH wanted (it is his Mum after all) and used Viva pearl pen around the edge. I also managed not to poke the pearls to see if they were dry. So proud of myself.
As an afterthought I may add the pearls to the bottom layer to match the pink at the top.**pearls added to bottom layer**
Hop over to the
CWWCC
and join us by linking your wonderful projects.